Alicia Svigals and dozens more, NYC, 21 Jun 2015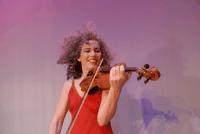 Join together with dozens of fellow violinists in a unique expression of the beauty of klezmer. Alicia Svigals, widely regarded as one of klezmer's greatest exponents, will lead a group of violinists of all ages and of varied experience levels in a free, outdoor event on the summer solstice.
Sunday, June 21, 2015. 3:00 pm
Joe's Pub
The Public Outdoor Stage
425 Lafayette St Astor Place and Lafayette
New York, NY 10003
FREE EVENT
Co-Presented with Make Music New York and the Museum of Jewish Heritage – Living Memorial to the Holocaust
Svigals has written a suite of tunes that will take players and listeners on a tour of the basic klezmer forms: horas, bulgars, freylekhs, and more. Playing the piece will start you on the path to the secrets of an authentic Yiddish playing style – the timbres and rhythmic feel, the modes and dance beats, slides, trills and krekhzn that make a violinist sound like a bonafide klezmer.
For more information or to sign up to perform in the event, please fill out the form here.