Lost Platina tapes released
Just announced - one of my favorite mid-'70s Israeli performing bands - here's the press release:
A popular jazz group (think Perigeo, Dedalus, Wolfgang Dauner, ECM) whose members were Israel1s biggest names in jazz, "The Girl with the Flaxen Hair" (1976) was The Platina's third album (recorded two years after their Newport Jazz Festival appearance). Unreleased until now, this 78-minute disk has the original mix-downs from the master tapes, live versions of the lost masters, and additional bonus tracks. Their best effort, the CD was released for a memorial concert for wind player & leader Roman Kunsman (1941-2002). Energetic, well-played, yet pastoral fusion. With their pianos (Fender Rhodes & acoustic), flute and wordless female vocals, Platina sound most like the mid-70's work of Hubert Laws on CTI. Fans of Kornet, Finnforest and Camel should like this.
For more information, or to order, contact Mio Records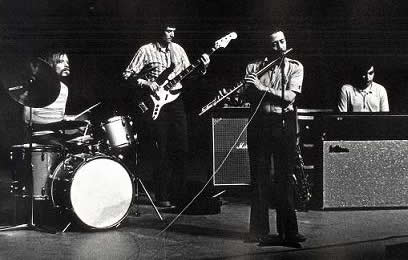 One of the delights of Israel in the mid-1970s was a jazz band called "The Platina." I believe I first heard them in a tiny jazz club in an ally behind Yafo Street in Jerusalem, run at the time by an American I had known through Young Judea, Charlie Fishman.
The band had some of the cool of ECM artists like Jan Garbarek, and a bit of jazz-rock fusion, but mostly it played a straight-ahead, entirely pleasurable jazz, driven by Aaron Kaminsky's incredible drumming and the flute of Roman Kunsman. The band released two albums, the second somewhat better than the first at capturing the excitement. Then it began performing a breakthrough program, "The Girl with the Flaxen Hair" based, in part, on some jazzed-up Debussy, and broke up before a CD could be released. For years I treasured a horrible copy captured through our mid-Seventies TV set to a portable cassette player.
In an interview at the time, Roman told me that one of the frustrations of leading a band in Israel was the fact that he simply couldn't get on a bus and tour the area, given the politics and hostility of the time. Later, he was in Moshe Berlin's wonderful klezmer ensemble, Sulam and recorded an album in New York. Drummer Kaminsky continued to perform widely in Israel, leading a Wednesday night jazz jam at Jerusalem's Pargod Theatre, on Bezalel St., for many years. Keyboard player Ilana Turel recorded widely, and other band alumni moved on to other projects. Kunsman passed away last year (2002).
-- ari davidow
For more information, or to order, contact Mio Records