Steven Greenman: Major klezmer violin project nearing release
I first met Steve Greenman in Toronto, having flown in, like him, for a Flying Bulgars concert. I was a spectator, he was the insanely good violin player flown in for the occasion. In the years that followed, he served a tour in Josh Horowitz' Budowitz (and credits Josh for initially turning him on to klezmer), played on many of the most exciting klezmer albums, joined with Zev Feldman to dive deeply into pre-Holocaust European klezmer music in Khevrisa, taught numerous workshops, and for the last few months - I'll let him describe: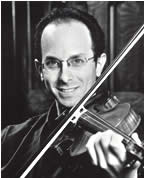 It's been long time since we last spoke and I hope you are well. I wanted to tell about my major recording project, "The Dream of Stempenyu". This is a recording of my original Klezmer and Jewish compositions all written in the traditional style. Everything has been recorded (January) and almost all mixed and I'm now writing liner notes and getting the booklet together. The release date will be in late June 2004. I have about 90 mins of music so it will be a double-CD in one package. I can't wait to share it with you. I'm the lead violinist and play with some great players including: Alan Bern, Stu Brotman, Michael Alpert, Zev Feldman, Alexander Fedoriouk, Pete Rushefsky and Mark Rubin. It's been an intense effort of raising the funds to make it all possible (and I'm still raising funds as we speak), doing all the logistical work and then finally playing all the tunes. The Cleveland commmunity has been most generous. The purpose of the project is to revitalize the Jewish violin repertoire and to continue the creativity of Jewish music composition all in the spirit of the great Stempenyu*. At some point I look to have a future publication of the music for all to play.
*"Stempenyu" was the title (and title chararacter) in a Shalom Aleichem novelette about a klezmer.