Major Jewish and African-American singing in Newton, MA, coming Jan 22-23
Mark your calendars!
On My Grandmother's Knee
Saturday, January 22, 8pm
Sunday, January 23, 2pm
Featuring
The National Spiritual Ensemble
and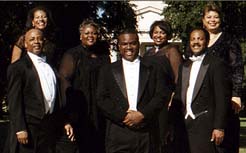 A Besere Velt: Yiddish Community Chorus of the Workmen's Circle
With special guests
Hankus Netsky and Adrienne Cooper
Two stunning vocal ensembles come together to present a soul-stirring concert of music. Performances are Saturday, January 22 at 8pm and Sunday, January 23 at 2pm.
Performances will be held at the Leventhal-Sidman Jewish Community Center, 333 Nahanton Street in Newton.
Tickets are $22 adult, $24 senior and $12 for children 18 and under.
For ticket information contact the JCC Box Office at 617-965-5226. Web: lsjcc.org