KlezKanada 2005, Aug 21-28, introduces special "East Meets West" Scholarship expansion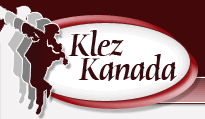 KlezKanada's 10th anniversary is scheduled to begin, for workshop participants, on Sunday, August 21,2005 and extends to Sunday August 28,2005. This includes all scholarship recipients.
Those who are not involved with workshops begin on Wednesday, August 24, 2005 and continue to Sunday, August 28, 2005 also.
A special feature this year is the introduction of a so-called "East Meets West" expansion of the scholarship program. That is 10-12 young, talented artists from Eastern Europe, Russia, Ukraine, Hungary, Moldavia and Belarus are being invited to join their Western compatriots and participate in the week-long scholarship program. This represents a dramatic new development and hopefully will encourage increasing interchange between the countries of Eastern Europe and the West.
Other exciting and new programs for this 10th anniversary are presently being finalized and will be seen on the KlezKanada website (www.klezkanada.com) in early May. [I can say that Judy and I will be part of the faculty, again. There will be a daily Yiddish-English newspaper, along with some incredible new Yiddish language and Arts stuff, as well. Ari]
For further information contact KlezKanada:
E-mail KlezKanada
Tel: 514-489-9014
Fax: 514-489-0260