Musique ensemble XX, South of France, 19-26 Aug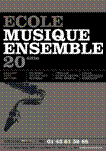 Our Music school is organizing a Klezmer summer school in the south of france, from the 19th to the 26th of august in a gorgeous place. This summer session is open to adults who want to play music in a band, conducted by an experienced clarinet professor. There will be a concert at the end of the week in the village nearby. For food, lodging and music course it costs 500 euros. All details are on our website. musique-ensemble.com
Tel: 33 1 43 61 52 88
E-mail Arielle Zajde for further info.