2006 Boston Jewish Music Fest/KCB Reunion/KlezmerShack 10th Anniversary pix up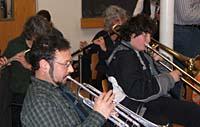 Okay, the final batch of pictures is up on flickr (to the extent that my free account allows)—search for tag bjmf2006.
And, you can get the slightly larger set at the official KlezmerShack/Ivritype photo gallery: www.ivritype.com/gallery/bjmf2006/
There are a lot of people I don't know—if you can identify someone in a picture who isn't identified (or is incorrectly identified), send me the URL and the name. Thanks!

I'll be putting up some articles about the festival this week, if all goes well. And Friday I meet with Barrie Keller at the JCC to think about doing another one, next year. If you are interested in being on the organizing committee (and especially if you know of good funding sources/connections), speak up!