KlezKanada registration in high gear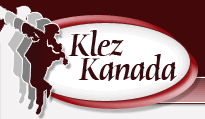 Run, do not walk, to the KlezKanada.com site to register for the 2006 internationally renowned festival of Yiddish/Jewish culture and the arts! This year's schedule is now up.
Located at Camp B'nai Brith, St. Agathe (Lantier, Quebec, it is held from Sunday, Aug.20-Sunday, Aug.27, 2006. Details for registration and programs on website. Space is limited and filling up quickly. Hurry to make KK reservations to ensure accommodations and transportation arrangements!
You can download the KlezKanada registration form and/or KlezKanada scholarship application form.
[I, Mr. KlezmerShack, am already signed up to take the daily newsletter and camp blog to new heights. If you are interested in being part of this particular project, email me right after you register!]
*Please note that KlezKanada 2006 will now take place over a full week for all participants