"The Silence is Lifted"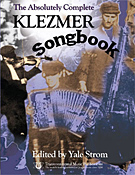 Transcontinental Music Publications releases Songbook and CD of Klezmer melodies many never before printed or heard since the Holocaust.
(New York – September 19, 2006) Transcontinental Music Publications today announced the long awaited release of a one-of-a-kind collection of lost and out of print klezmer music entitled "The Absolutely Complete Klezmer Songbook", by Yale Strom. The author is a musician, film maker, writer, photographer and ethnographer who researched the project for two decades.
This collection, including many out of print and previously unpublished melodies, has 313 klezmer (Yiddish instrumental folk music) tunes, and a few with Yiddish text as well. "Until the mid-1970's klezmer was virtually unknown to the non-Jewish public and only nostalgically remembered by many Jews; today it is the way klezmer bands throughout the world celebrate the resurgence of Yiddish culture," Strom said.
The song book contains archival photos, cultural and historical background and has an accompanying CD with 36 tunes recorded by Strom's klezmer band Hot Pstromi. Some melodies are attributed to Strom's field recordings he collected in Eastern Europe among Jewish and Rom (Gypsy) Holocaust survivors who recalled melodies from their childhood.
This unique collection contains 313 songs from the klezmer tradition and will be a treasure trove for both the professional and amateur musician as well as enthusiast. To order your copy of The Absolutely Complete Klezmer Songbook ($49.95) by Yale Strom, visit Transcontinental Music Publication visit http://www.etranscon.com/ or call 212-650-4120.
For further information about the book contact the publisher:
Zachary Kolstein - Marketing Director
URJ Books & Music Dept. - 212-650-4125
sincerely Yale Strom