22nd annual Jewish Music Festival, San Francisco Bay, coming Mar 8-25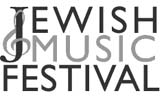 Boy, do I have fond memories of the Jewish Music Festival from my years living in the San Francisco Bay area. From my first time hearing exotic-to-me Jewish music from Bukhara and points east, to the first times I saw the Klezmatics and Brave Old World, to one very erotic encounter that began one of my more memorable relationships … to conversations with Festival founder, Ursula Sherman, z"l. Jewish music just does that to me.
This year's line-up is pretty exciting. I am so very jealous that Klezmer en Buenos Aires is appearing, as are Pharaoh's Daughter and a host of others. If you are in the Bay Area, or have a way to get these this coming month, that's the place to be.
For more information: www.jewishmusicfestival.org. Tell festival director Ellie Shapiro that the KlezmerShack sent you. We've known each other for about 30 years. I can tell you that she has good taste in friends and music :-).