KlezKanada youth scholarship application now online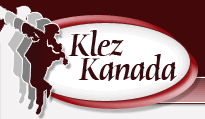 The 2007 KlezKanada Youth Scholarship Application is now available on the KlezKanada website at www.klezkanada.com. Avia Moore, Youth Scholarship Coordinator, writes:
"Dear Friends / Tayere khaverim,
"It is my pleasure to invite you to participate in the cultural experience of a lifetime. KlezKanada, Canada's internationally renowned summer festival of Jewish/Yiddish culture and the arts, is gearing up for its 12th (yes, 12th!) year. KlezKanada's goal is to foster Yiddish and Jewish cultural and artistic creativity as both an ethnic heritage and a constantly evolving contemporary culture and identity.
I can't express enough how excited I am to be the coordinator for the 2007 Youth Scholarship Program. Our program provides 100 scholarships to students, who might otherwise not be able to participate, giving them the opportunity to attend KlezKanada at a considerably reduced cost. We actively seek students with interest in a wide variety of areas including music, theatre, dance, visual arts, film, writing and Yiddish studies. The scholarship students are a vital part of the KlezKanada community—this is an opportunity not only to work with many of the best teachers of Yiddish music and culture in the world but also to make friends and form artistic partnerships that will last you a lifetime. Believe me, KlezKanada is truly, honestly a magical place.
I hope that everyone will fall in love while they are at KlezKanada. I want every scholarship student, no matter what their age or interest, to fall in love with something during that last week in August: the music, the language, the theatre, the dance, the community, or all of the above. From the deeply rooted song traditions of Theodore Bikel to the contemporary creativity of New Yiddish Culture, KlezKanada offers no end of choices.
A couple of things of note:
"2007 marks the return of the David A. Stein Memorial Filmmaking Scholarships. This is an opportunity for emerging filmmakers who are given the task of documenting the festival, archiving the performances—both the planned, and the spontaneous,—and exploring KlezKanada through the camera's eye. In memory of the late Toronto filmmaker David A. Stein.
"Please note that our application procedure has changed slightly—we have a new application form and a single, fixed application deadline. The new application is available on the KlezKanada website at www.klezkanada.com. All applications must be postmarked no later than May 1st, 2007. We will notify all successful applicants by June 1st. A waiting list will be established once we have reached our maximum number of scholarship recipients.
"I look forward to receiving your application and to welcoming you to the 12th annual KlezKanada! Please feel free to contact me with any questions."
Until then, yours,
Avia Moore
Youth Scholarship Coordinator
E-mail Avia Moore