Svigals' to curate month at Zorn's "The Stone"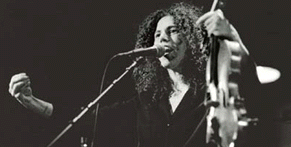 Violinist Alicia Svigals, a co-founder of the Grammy-winning Klezmatics and the world's best-known klezmer fiddler, is the curator for the month of April at the Stone, John Zorn's performance space on the Lower East Side of Manhattan.

John Zorn, the composer who was recently awarded a MacArthur genius grant, opened the Stone to provide a venue for the most creative new music in New York. Each month he selects a different musician to curate the series, and for April he asked Svigals to put together a lineup that would tap into her eclectic and offbeat musical worlds.

The fifty acts Svigals booked revolve around three themes: Jewish music, virtuoso female instrumentalist/improvisers/composers, and all kinds of string music, traditional and contemporary. From an electronic violist turning Bartok on his head to the lightning speed of traditional Bulgarian fiddling; from a master of traditional klezmer clarinet playing to spontaneous 21st century keyboard explorations of those same old melodies, the month is a feast of the most interesting music coming out of New York and beyond.

Svigals' own shows are Saturday night April 7 and Friday night April 27; she'll also be sitting in with a number of the artists throughout the month. The week of the 9th spotlights klezmer and a dozen great women artists take the stage from the 21st on.

For more information, see www.thestonenyc.com or contact Svigals at 1 212 222 2746 or www.aliciasvigals.com
April 2007 at the Stone
curated by Alicia Svigals
4/1 Sunday
8 pm
The Carmen Staaf Quintet
Carmen Staaf (piano) Dana Sandler (voice) Dan Blake (tenor sax, soprano sax)
Kendall Eddy (bass) Austin McMahon (drums)
The NYC debut of the Carmen Staaf Quintet will feature Latin-jazz-influenced originals, new takes on swing and bebop tunes, free conversations and other explorations.
10 pm
Ben Goldberg: New Music for Quintet
Carla Kihlstedt (violin) Rob Sudduth (tenor saxophone) Devin Hoff (bass) Kenny Wollesen (drums) Ben Goldberg (clarinet, composition)
angle and particle.

4/3 Tuesday 8 pm
Olivier Manchon's Orchestre de Chambre Miniature
Olivier Manchon (violin) John Ellis (clarinet, sax) Alan Hampton (bass) Beth Meyers (viola) Christopher Hoffman (cello)
10 pm
Teletextile
Pamela Martinez (violin, vocals, piano) Brian Hamilton (piano, keyboards) John Somers (guitar, electronics)
Textural Instrumentals and Visceral songs, www.teletextile.com

4/4 Wednesday
8 pm
Mawwal
Jim Matus (vocals, laouto, saz) Jill O'Brien (vocals) Joe O'Brien (bass, vocals) Mike Keys (drums) Bill Buchen (tabla, percussion)
Record release party for MAWWAL'S new CD "Black Flies" on Ancient Record. MAWWAL (formerly PARANOISE) performs original World Fusion and arrangements of traditional Middle Eastern music in what has been called "a new genre" by Progression Magazine.
10 pm
Violin-Clarinet Multi-Night
Mari Kimura (violin) Kinan Azmeh (clarinet)
multi-cultural, multi-media duos and solos

4/5 Thursday
8 pm
KJ Denhert—Lucky 7, The New CD Concert
KJ Denhert (guitar, vocals, songwriter) Mamdou Ba (bass) Ray Levier (drums) ATN (keys) plus special guests from the CD!
Urban folk and jazz artist KJ Denhert makes her first NY appearance in 2007 with a brand new CD called Lucky 7. All CDs one night only to celebrate the 10 year anniversary of KJ's label and her seventh release
10 pm
Steve Sandberg and friends
Steve Sandberg (voice)
Spoken word, raga-influenced vocals, breath-controlled keyboard, loops plus friends tba - "music from a country I've never been to but always wanted to visit."
http://www.myspace.com/stevesandberg

4/6 Friday
8 pm
Noriko Ueda Jazz Orchestra
Noriko Ueda (composition, bass) 16 piece band
10 pm
Ivan Milev Band
Ivan Milev (accordion) Entcho Todorov (violin) Maria Koleva (vocals) Panagiotis Andreou (bass) Vasko Angelov (guitar) Seido Salifovski (drums)
Monster accordionist Ivan Milev and his band perform Bulgarian-Balkan folk music. Check out: http://myspace.com/ivanmilev

4/7 Saturday
8 pm
John Zorn Improv Night—a Stone Benefit
John Zorn (sax) and many surprise guests
Come out and support The Stone! Twenty Dollars
10 pm
Alicia Svigals and Uli Geissendorfer, with special guest Iliya Magalnyk—a Stone Benefit
Alicia Svigals (violin) Uli Geissendorfer (piano) Iliya Magannyk (accordion)
Musicians from three points on the globe take a sidelong look at klezmer. A Benefit for the Stone!

4/8 Sunday
8 pm
Songs Your Grandmother Might Know, If Your Grandmother is Hip: The Matt Glaser Quintet.
Matt Glaser (violin) Matt Munisteri (guitar) Sonny Barbato (accordion) Heather Masse (vocal) Jim Whitney (bass)
10 pm
Pablo Aslan's "Anda Cantale
Pablo Aslan (bass)and his ensemble
The Argentine bassist explores the repertoire of the great tango singer Carlos Gardel.

4/10 Tuesday
8 pm
Alex Kontorovich's Deep Minor
Aaron Alexander (drums) Brandon Seabrook (guitar/banjo) Reuben Radding (bass) Alex Kontorovich (clarinet, sax, compositions)
All original music from Kontorovich (sideman to Frank London's Klezmer Brass All-Stars and Aaron Alexander's Midrash Mish Mosh) mixes downtown klezmer, jazz, and other influences.
10 pm
Michael Winograd's Infection
Michael Winograd, Jessica Lurie, Petr Cancura, Jeremy Udden (reeds) Daniel Blacksberg (trombone) Jon Singer (xylophone) Brandon Seabrook (guitar) Jorge Roeder (bass) Jason Nazary (drums) Patrick Farrell (accordion) Frank London (trumpet)

4/11 Wednesday
8 pm
Michael Winograd's Klezmer Ensemble
Michael Winograd (clarinet, alto clarinet) Daniel Blacksberg (trombone) Carmen Staaf (piano, accordion) Joey Weisenberg (mandolin) Nick Cudahy (bass) Richie Barshay (percussion)
10 pm
Susan Watts (of Hoffman Klezmer Dynasty) and Rob Schwimmer (of Polygraph Lounge)
Rob Schwimmer (piano) Susan Hoffman Watts (voice, trumpet)
Erotic Jewish Night Dreams:Inspirational Explorations.

4/12 Thursday
8 pm
Ghetto Tango
Adrienne Cooper (voice) Zalmen Mlotek (piano)
Adrienne Cooper and Zalmen Mlotek bring electrifying theatricality to the unknown satiric, down and dirty, and heartbroken repertoire of World War II European Jewish cabarets—from Yiddish to Weill & Eisler.
10 pm
Socalled and guests
Socalled (accordion, mpc, melodica, piano, vocals) Susan Hoffman-Watts (trumpet) Allen Watsky (guitar, bass) Micheael Winograd (clarinet) and Special Guests.
Josh Dolgin aka Socalled and his rag tag group of friends, will raise the Stone's roof with a klez-funk party unlike anything else. www.socalledmusic.com ww.myspace.com/socalled

4/13 Friday
8 pm
Lily White and Follicle
Lily White (saxes) Rob Garcia (drums) Greg Jones (bass)
Crazy music from the mind of saxophonist Lily White in her most compact group yet. www.lilywhitemusic.com
10 pm
Cynthia Hilts & Lyric Fury
Cynthia Hilts (composer, piano, voice) Jack Walrath (trumpet) Lily White
(tenor and alto sax) Lisa Parrott
(baritone and soprano sax) Debra Weisz
(trombone) Martha Colby (cello) Ratzo Harris (bass) Gene Jackson (drums)
New jazz that nods at the traditions,swings like hell and searches the deepest harmonic zones. Howls and lullabies, ice and predators are all in there, the perfect answer to a listener's natural raving desire for organic and furious lyricism.

4/14 Saturday
8 pm
Beth Bahia Cohen: Traditional Arabic Music
Beth Bahia Cohen (violin and other bowed string instruments) and friends
10 pm
Midnight Prayer
Joel Rubin (clarinet) Pete Rushefsky (tsimbl/hammered dulcimer)
World renowned klezmer clarinetist Joel Rubin gives a rare NY performance of duets with leading tsimbl revivalist Pete Rushefsky from their new CD Midnight Prayer (Traditional Crossroads).

4/15 Sunday
8 pm
Mimi Rabson and Bruno Raberg
Mimi Rabson (violin) Bruno Raberg (bass)
Compositional Improvisation and Improvised Compositons
10 pm
The Ingrid Jensen Quartet
Ingrid Jensen (trumpet and electronics) and band

4/17 Tuesday
8 pm
Greg Wall's Later Prophets
Greg Wall (saxophones) Shai Bachar (keyboards) David Richards (bass) Aaron Alexander (drums)
Simultaneously Straddling the Gates of the Ancient and the Avant-garde.....
10 pm
Quartetto Cui Bono
Art Bailey (accordion, piano) Peter Van Huffel (sax) Ernesto Cervini (drums) Michael Bates (bass) special guest Alicia Svigals (violin)
An evening of new music.

4/18 Wednesday
8 pm
Mark Sganga and Friends
Mark Sganga (guitar) and friends
Acoustic improvisations with a Brazilian accent. www.marksganga.com
10 pm
Stephane Wrembel Acoustic
Stephane Wrembel (guitar) Jared Engel (bass) David Langlois (washboard)
Monster Guitarist Stephane Wrembel and his band perform the music of Django Reinhardt in their own special way, blended with compositions and colors from India and Africa; each show is a different trip! http://www.stephanewrembel.com/

4/19 Thursday
8 pm
Michael Winograd Quintet
Michael Winograd (clarinet, alto clarinet) Kristin Slipp (voice) David Bryant (casio keyboards) Michael Bates (bass) Michael Evans (drums)
10 pm
Bangalore Breakdown
Uli Geissendoerfer (piano, keys, percussion) Premik Russel Tubbs (sax, flute, windsynth) Gino Sitson (vocals) Beat Kaestli (vocals) Steve Sandberg (leadsynth, vocals) Naren Budhakar (tabla) Gilad Dobrecky (percussion) Nathan Peck (bass) Lev Zhurbin (viola)

4/20 Friday
8 pm
Juanito Pascual and Friends
Jonathan "Juanito" Pascual (flamenco guitar) Rohan Gregory (violin) Stan Strickland (flute, soprano sax, vocals) Jerry Leake (world percussion).
Flamenco guitar virtuoso Jonathan "Juanito" Pascual presents an evening of original flamenco music and beyond, with his quartet featuring 3 of the East Coast's finest improvisational and world-music players. "One of the hottest flamenco guitarists to emerge in recent years" -Nat