For the next week: KlezKanada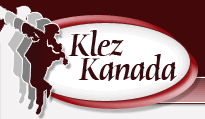 We're off to KlezKanada in a few minutes. I'm still a couple of months behind in updating listings, and even farther behind with reviews. But, for the next week, we'll live klezmer and yiddishkeit in the Laurentians.
If all goes well, this year internet connectivity will finally have reached the fabled lands north of Montreal. In that case, you can follow the week's happenings on the KlezKanada blog. See ya'll next week.