OyHoo Festival Opener tonight!: Fiddlin' w/the roof
The 2007 Oyhoo Festival Opening Night World Premier Saturday, October 20 - 8pm Kaufmann Concert Hall, 92nd Street Y
A live concert featuring 14 groups each performing one song in the original order of classic motion picture soundtrack of Sholem Aleichem's great tale.
From theatrical legends who have performed the role of Tevye on the stage such as Mike Burstyn or Bruce Adler to the recent Grammy nominated Klezmatics or popular Blue Fringe taking on the material. Imagine the classic song "Matchmaker, Matchmaker" sung by three of the most popular young female Jewish artists on the NY scene for the first time: Basya Schecter of Pharaoh's Daughter, Chana Rothman, and Shira Kline. The Sephardic sounds of Sarah Aroeste to the soulful voice of Neshama Carlebach or Debbie Friedman, the richness of the Jewish music scene is really represented. Even the most popular secular radio friendly pop rock is represented by Jill Sobule. New music from Heedoosh and Good for the Jews is rounded out by the new Klezmer from Greg Wall's Later Prophets, Paul Shapiro's Rib's & Brisket Band, and Frank London's Inebriated Orchestra.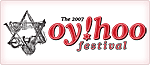 If there was a "hit single" from the soundtrack, it would have been "If I Were a Rich Man" which will be very unique collaboration between classic version sung by Mike Burstyn mixed and backed up by the Hip Hop of Y-Love and DJ Handler. The show is a production by Michael Dorf.
Check out the rest of the Oyhoo Festival as well—a week long immersion into Jewish music.