Yiddish Dance Symposium, NYC, Dec 9, 2007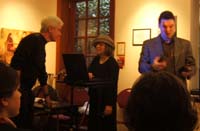 I won't have time to do much synchronous blogging, but wanted to convey a bit of the excitement of this first-time event by getting a first post online as final setup happens here at NYU's Bronfman Center, in a tiny room that may hold 50 people. But, what 50 people? Pete Rushefsky, of the Center for Traditional Music and Dance is here, as are Zev Feldman and Michael Alpert, Barbara Kirshenblatt-Gimblett, Helen Winkler, PhD candidate Jill Gellerman who is doing such neat research on dance, and a host of onlookers like me and other klezmer folks about town, including Mark Slobin, Nahma Sendrow, youngsters like KlezKanada's Avia Moore....
For years I have contended (and others, more effectual—they've even gotten this symposium together) that reviving klezmer without reviving the dance makes incomplete sense. Dance music without dancers is decontextualized in the extreme.
Despite being in NYC, the center of the world's second-best (and most well-known) bagels (the best bagels, of course, come from Montreal), this event serves Dunkin' Donuts bagel-shaped bread. But, what's to complain? We've gotten a full room of Jews together, and after a day of talking, we'll all be heading to the Ukrainian East Village Restaurant (140 2nd Ave btw 8th and 9th St.) for a full-bore dance party.
One of the nifty oddities of being in NYC in a relatively small community is that a couple of today's attendants—Barbara Kirshenblatt-Gimblett, Jill Gellerman—were at a talk I gave Friday morning on "the KlezmerShack as an archive."
More as it develops. I see Pete peering intently at the computer as though he is ready to begin....