KlezKanada Brochure and Workshop Schedule Available Online!, Aug 18-24, 2008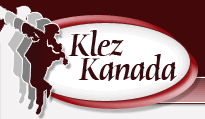 KlezKanada
KlezKanada 2008 will take place from August 18 through 24.

We have a world-class faculty and a fantastic program of concerts, lectures, films and hands-on workshops scheduled. The proprietor of this website will be there once again facilitating the Yiddish gossip column, the blog, and other neat, new ventures.

You can download all of the information at www.klezkanada.com.
Hope to see you there!