"Other Europeans" concert at Krakow Jewish Culture Fest
Writer Ruth Ellen Gruber attended the first performance of Yiddish Summer Weimar's "Other Europeans" concert: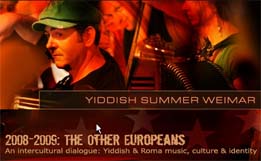 The "Other Europeans" project—an intercultural dialogue on Yiddish and Roma music, culture and identity—had its concert debut July 2 at the Jewish Culture Festival in Krakow. The two-year project entails creation of two bands, one Yiddish and one Roma, which this year will play separately, developing repertoires with common Romanian roots and next year will join forces, performing together. At the concert in Krakow, each band played a set and then joined together for the encore—here's a link to a video I shot of that joint performance. Sorry about the fuzzy video, but the sound is more or less OK….
The project is a collaborative effort of the Yiddish Summer Weimar, the Krakow Jewish Culture Festival and the KlezMORE festival in Vienna. Driving force behind it is Alan Bern. For details of the project, see www.the-other-europeans.eu/project.htm
Yiddish Summer Weimar kicks off next weekend with a 3-day "other Europeans" symposium.
Günther Schöller notes:
The internet radio station emap.fm broadcasts both Vienna concerts:

The concert of the "Yiddish Music Project" is on July 7th, starting at 9 pm local time, that's 3 pm in New York. The concert of the "Roma Music Project" is on July 8th, same time.

Both concerts should also be available as stream on demand afterwards, but I'm not 100% sure.