Judy Wachs, 70, founder of Voice of the Turtle, z"l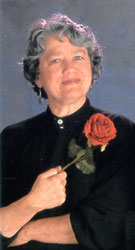 Judith Cohen writes to the Jewish-Music mailing list:
I was terribly saddened to read of Judy Wach's death [on Oct 9, 2008]. There is a place to sign a condolence book here.
The Founder and Artistic Director of the Sephardic music group, Voice of the Turtle, Wachs will be very much missed.
An article in the Boston Globe, Judith Wachs, 70; brought new life to Sephardic music, by Bryan Marquard on October 19, 2008, begins:
The epiphany came in the late 1970s when Judith Wachs heard someone sing the Sephardic folk song "Skalerika de Oro." It was as though she had been searching for this kind of music, and the songs were seeking her.

"Whenever I tell this story, I still feel the shock of hearing that piece for the first time," she told the Globe in 1997. "It was entirely Spanish, unlike anything I had ever heard, and yet it was unmistakably Jewish and totally reminiscent of everything I had ever heard. My first reaction was, 'How can there be a Jewish music I've never heard before? I've been listening to Jewish music from all over the world all my life.' "
A discography of her work with Voice of the Turtle is available on Joel Bresler's new www.sephardicmusic.org site
There is a wonderful 2000 interview with her from RootsWorld, Judith Wachs of Voice of the Turtle talks with Aaron Howard about 'creative conjecture' and the re-creation of Sephardic music in modern America., as well as a small live jounal entry by JWG.