Pesakh Fiszman, z"l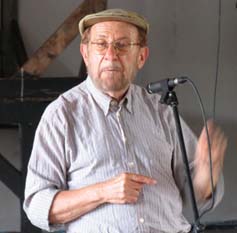 Pesakh Fiszman was one of the nicest people, and one of the fiercest advocates of using Yiddish, I have known. Yet, he could also give an entire lecture on the history of klezmer, almost entirely in Yiddish, such that a non-Yiddish-speaking audience understood it easily. He will be missed very much.
The following was pass to the Jewish-Music list from Jeff Warschauer, conveying words by Kolya Borodulin
Pesach was a very dear friend, teacher, mentor and hero to Deborah, to me, and to countless others throughout the world.

Boruch Dayan Emes.
From Kolya Borodulin:
We are saddened to inform you that our dear friend and teacher, Pesah Fiszman passed away Friday 1 am. As per his wishes there will be only a graveside burial at Mount Hebron cemetery (13004 Horace Harding Expy Flushing, NY 11367) at 1 pm.
We are planning a memorial for our beloved Pesah and will notify you shortly.
Mit tifn troyer zogn mir on az undzer tayerer khaver un lerer, Pesah Fishman iz geshtorbn Fraytik 1 banakht. Loyt zayn onzog veln levaye un kvure opgerikht vern afn besoylem Mount Hebron (13004 Horace Harding Expy Flushing, NY 11367) 1 nokh mitog.
Mir planirin a haskore nokh undzer Peysakhn gor in gikhn un vel aykh lozn visn.
Mitarbeter un studentn fun "Arbeter Ring"
From Miryam-Khaye Seigel:
Ot iz nokh a tsugob informatsye (untn), vegn dem zuntik dem 18tn ven me vet im mekaber zayn.

Oyb ir vilt mit mir un Esther-Malke Goodman drukn a troyer-anons in Forverts, zayt azoy gut un shtelt zikh in kontakt mit mir.

Zoln ale gefinen a treyst in der shverer sho.
From Theresa Tova:
Dos is azoy troyerik tsu hern.
Pesakh hot gehat azoy fil derheretz far yedn yidish reder.
Un hot gelernt undz shtendik mit a vitz un a gitn mayse tsu dertsayln

My g-d he will be missed!