Memorial Service for Pesakh Fiszman, z"l, Feb 18, 2009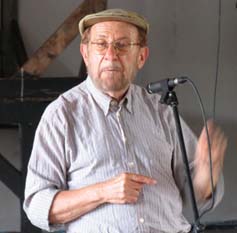 Memorial Evening for Pesakh Fiszman z"l,
Wednesday, February 18, 2009, 6-8 pm
Cosponsored by The Workmen's Circle/Arbeter Ring and The YIVO Institute for Jewish Research
at The Center for Jewish History,
15 West 16th Street, New York, New York.
(Photo id required for entry)
For additional information, phone 212.889-6800, ext. 203.
To submit photos or text for the event, please email Kolya Borodulin at the Workmen's Circle.
Di shloyshim far Pesach Fiszman z"l veln forkumen mitvokh dem 18tn february, 2009 fun 6-8 in ovnt, in dem "Center for Jewish History", 15 W. 16te gas (tsvishn 5ter un 6ter evenyu) in Manhetn.
Az ir vilt araynshikn a tekst tsi a bild, farbindt zikh mit
Kolya Borodulin in Arbeter-Ring.