A good day for music / reconnecting with Danny Kalb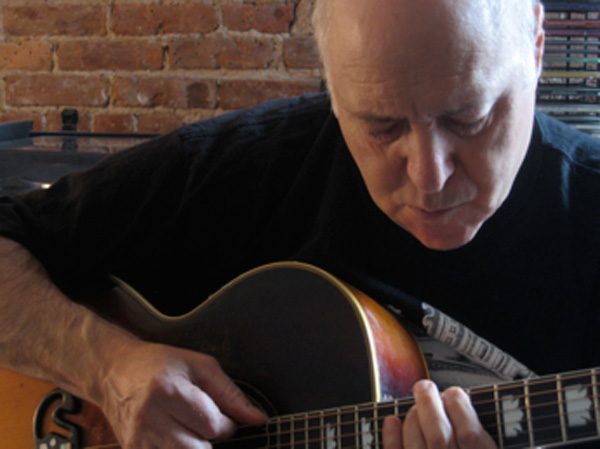 Yesterday was a wonderful music day, full of contrast and interconnection. Early in the afternoon I wandered over to Club Passim, in Cambridge, where they have been holding an annual "campfire" series--continuous music, mostly by younger artists, non-stop from noon to midnite, over the whole weekend. It's an interesting mix of bands that looked like a lot of Celtic music and singer-songwriters. This is not a bad thing at all, but it contrasted bluntly with the recent Old Town Folk Fest I attended in Chicago in which the Old Town Music School hosted a lively festival in a local park with the staff bands (just considering the staff bands) ranging from hillbilly to African drumming. I adore Club Passim and have attended some of my favorite shows of all time there. For 50 years (not always under the same name) it has been a place to find good traditional music and the excellent things that come therefrom. The campfire festival may not fairly represent the span of the club and it's associated school's offerings. But I did note the difference from Old Town.
In this case I was alerted to the one overtly Jewish music band of the series--appearing, of course, on Shabbes, in the early afternoon, to ensure that nobody too strongly tied to Jewish religious practice could attend--even attendees of Reform of New Age services would have had to skip the Oneg and dash down to the club to get there in time. The band is called Ezekiel's Wheels, and it consists of some excellent young musicians--fiddle, trombone, accordion, clarinet--playing (mostly) traditional klezmer with great verve and skill. A good time was had by all, even if I had to rush off to attend to the day's chores. (I am not particularly tied to formal Jewish religious practice, as it happens. But I do have to get the chores done.) Two of the band's members have been in the Brown University klezmer band, Yarmulkazi, since 2004. Most recently, they are just back from KlezKanada, so you know that their musical minds have been imprinted by a slightly different sense of "tradition" than friends in the klezmer revival encountered 30 years ago. It showed in the playing. Nice! (I recognized neither of them, which says a lot for how isolated I can be running in my own circles at KlezKanada. I suspect that the reverse was also true.)
Later yesterday evening, I found myself with Judy and friends in Woonsocket, RI, at a Chinese restaurant that doubles as a jazz club--Woonsocket's "Johnny D's," as it were. The occasion was the first appearance of Danny Kalb's band this far north of New York in my recent memory. He was playing with his brother, a talented bassist and harp player, Jonathan Kalb, and drummer Mark Ambrosino. They were excellent. After a first set in which we most noted that his ability to sing has not improved with age, and on the side noticed that his fingers still remembered how to play the guitar with astonishing fluidity and vigor, if somewhat diminished speed, we were lucky enough to stay for a last set in which he first performed one of his former signature songs, "Alberta" as well or better as I have heard it, and then jammed with the show openers, leaving the singing to the local blues musician and focusing just on his playing. You could see the face, deep in thought, sometimes seeming even puzzled, and then the fingers hitting just the right notes in bursts at just the right times. It was clear that the Danny Kalb, peer of Eric Clapton and Michael Bloomfield, was still present almost 50 years after his first recordings.
Danny Kalb is one of a remarkable generation of Jewish blues musicians who came of age in the 1960s. Unlike people like Steve Goodman or Bob Dylan for whom the blues was one part of their musical identity, Michael Bloomfield (Paul Butterfield's Blues Band, SuperSessions, Electric Flag), Siegal & Schwall, Al Kooper (Blues Project, Blood Sweat and Tears, SuperSessions), Danny Kalb (Blues Project) bonded with the blues and pretty much never left. Bloomfield's first solo album, "It Ain't Killing Me" was the most Jewish-sounding blues album I have ever heard. I've never been able to describe why that was so—the subjects of his songs? his vocabulary? The gestalt of titling a blues album, "It Ain't Killing Me"? (Sadly, the blues may not have killed him, but the drugs he took did.)
In Kalb's case, he learned the blues from everyone passing through New York City at a time when the old-timers who defined blues as we know the tradition today was being "re-discovered" (and new opportunities opening for others, like the Chicago scene, just as the rest of the world was following Chuck Berry and Bo Diddly into rock 'n' roll)—everyone from Little Walter to the Rev. Gary Davis, Big Bill Broonzy, Josh White, Mississippi John Hurt … a panoply of amazing musical people as amazing and defining as the oldsters who helped define the klezmer revival a few years later: Sid Beckerman, Leon Schwartz, Bronya Sakina, the Epstein Brothers, and so many significant others.
His band, the Blues Project, took it's name from an "urban blues" CD recorded in the early '60s to which he contributed a couple of cuts. He and his mostly-Jewish buddies rocked things up and for about two and a half years were the US equivalent of the Rolling Stones—or perhaps the better equivalent was Fleetwood Mac, whose Peter Green, another Jewish blues boy who has gone through travails similar to those of Kalb. Towards the end of the Sixties Danny had a breakdown and spent a while out of sight, institutionalized. It wasn't drugs or drink. Just humdrum breakdown. He's been on drugs to keep his body and mind stabilized ever since.
In 1978 I moved from Israel back to the States and spent a few months living in New York City. The first blues show I saw was Danny Kalb with a small combo at one of the clubs in the Village where he had started 20 years earlier. It was wonderful. I had idolized the Blues Project, and it was grounding to hear the band's guitarist "still" playing heartfelt, fluent blues. A decade later, at a fundraiser for New Jewish Agenda, in Berkeley, I ran into him again. Both of us were now residents of the San Francisco Bay Area and for a while, my life as a late-night typesetter always ready for a few hours of shmoozing, and his as a late-night musician, occasionally meshed. Eventually, I took a daytime job and he moved back to New York City. I hadn't seen him since.
I was apprehensive going to the concert and let my friends know that this could be an incredible concert. But even twenty years earlier, Kalb had not been in good physical shape. Who knew what he'd be like now? As it happened, he has lost a lot of weight and looks great. You can still hear the pharma mediating as he talks or sings live. He never had a great voice, but it is still one that speaks the blues. But his fingers? Danny Kalb still plays the blues better than almost anyone I know. He has promised to make it to Boston soon. I can see him packing Club Passim, for instance. Let's hope it happens soon.
In the meantime, he has a new CD out (on Neshama Carlebach's label, Sojourn Records), I'm Gonna Live the life I sing about in my song." Check it out.