International Jewish Music Festival, the Netherlands, Oct 28-31, 2010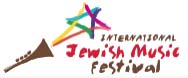 Amsterdam will once again host the world's most exciting and innovative Jewish Music Festival: October 28-31, 2010. In addition to our unique competition, you can enjoy workshops, master classes, jam sessions, and the Jewish cultural marketplace.
Details as they are available: www.ijmf.org. You can also sign up for the organization's mailing list.