Yes! Judith Cohen ~ Sephardic Song - Newton, MA this Sat night - Dec 18
It has long been a sad saying of mine that I have been useless at finding actual local gigs for friends who make wonderful music. This past fall, however, I helped get The Other Europeans to Somerville. On Saturday night, we serve a different form of excellent Jewish by hosting Toronto ethnomusicologist and frequent KlezmerShack contributor Judith Cohen at our home. Please join us in welcoming her in her first post 9/11 Boston-area appearance: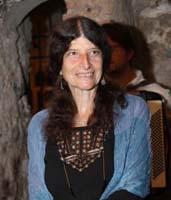 Judith Cohen ~ Sephardic Song
Saturday, December 18 · 7:30pm Newton, MA
Canadian ethnomusicologist Judith Cohen offers a wide-ranging repertoire of Jewish song, mixed with the stories behind the songs from her decades of field research in Spain,Portugal, and around the world.
This is a house concert. Light kosher refreshments will be provided. For address info, email Ari Davidow. Shuttle to/from Chestnut Hill T stop available.