Celebrate Adrienne Cooper and fund her work in the future, NYC, Dec 22, 2012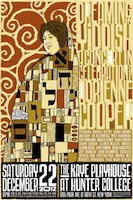 Everybody who is anybody in the world of Yiddish culture (or so it seems) is gathering in NYC this coming Dec 22 to celebrate the life of Adrienne Cooper, co-founder of KlezKamp, teacher of thousands, beloved singer, and all around person you'd rather hang out with than just about anyone else.
The obvious way to do this is to hold a monster concert and invite everyone we know. One goal of the concert is to create a new fund in Adrienne Cooper's memory. So, she'll live on not just in our memory, and not just in recordings, but to help continue to fund her work.
A KHOLEM / DREAMING IN YIDDISH
A CONCERT IN TRIBUTE TO ADRIENNE COOPER
Sat Dec 22 2012, 8 pm
Kaye Playhouse at Hunter College
East 68th Street between Park & Lexington Avenue
Tickets: $18, $36, $54
(212) 772-4448
Find out more on Facebook or on Adrienne's website