JewJamSouth, Aug 10-13, 2014
From our friends Jeff Warschauer and Deborah Strauss: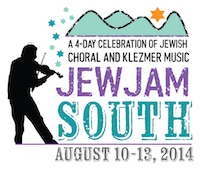 JEWJAM SOUTH!
THIS AUGUST 10-13!
AN EXCITING BRAND-NEW PROGRAM.
Join us for JewJamSouth, a four-day celebration of Jewish choral music, Yiddish song and klezmer music this August in Clayton, GA!
JewJamSouth will take place on August 10–13, 2014, at Ramah Darom's campus in the beautiful North Georgia mountains. The event is designed for passionate Jewish choral singers, klezmer instrumentalists, Hebrew and Yiddish singers and their families. Whether you are an experienced practitioner or a newcomer, this four-day festival will offer a feast of musical inspiration, ideas and fun.
JewJamSouth is open to people of all levels and backgrounds, and no previous experience is needed. Beginners are welcome.
Throughout the four days, you'll have a chance to participate in a hands-on ensemble program and study, perform and be mentored by world-renowned faculty:
Hazzan David Tilman, Program Director

"Hazzan David Tilman is Adjunct Associate Professor at the H.L. Miller Cantorial School of the Jewish Theological Seminary and the choral director at Keneseth Israel in Elkins Park, Pennsylvania. He also serves as Hazzan Emeritus of Beth Sholom Congregation, where he created a nationally recognized five choir program.Hazzan Tilman is an award-winning, life-long conductor who has traveled around the world and received numerous awards, including the first Moshe Nathanson Award in conducting and the the Samual Rosenbaum Award for lifelong achievement from the Cantor's Assembly. His travels have included trips to Germany, Havana and Chile, but he is also well-loved right here at home, as he has been the music director of Camp Ramah in Wingdale and Nyack, as well as at the Brandeis Bardin Institute in Simi Valley, California.

Jeff Warschauer, Co-Director

Jeff Warschauer is a Founding Artistic Director and Senior Artistic Advisor of the KlezKanada Institute for Yiddish/Jewish Culture and the Arts, is on the faculty of Columbia University in New York, and is a graduate student in Cantorial Music and Modern Jewish Studies at the Jewish Theological Seminary.

Deborah Strauss, Co-Director

Deborah Strauss is an internationally acclaimed klezmer violinist, an award-winning children's educator and a highly-regarded Yiddish dancer and dance leader.

The Strauss/Warschauer Duo

For over 25 years, Deborah Strauss (violin, accordion, vocals, dance) and Jeff Warschauer (guitar, mandolin, vocals) have been at the forefront of the international klezmer and Yiddish music scene. They were both long-time members of the Klezmer Conservatory Band, one of the premiere groups of the klezmer revival, and have performed with legendary violinist Itzhak Perlman on film and in concert. They are renowned worldwide for their depth of experience and knowledge, and for their innovative performances, residencies and workshops.

The event will culminate in a one-of-a-kind joint choral/klezmer gala performance.

Come enjoy a breathtaking view and gourmet Kosher cuisine among new friends;
Experience formal and informal Hebrew, Yiddish and Israeli singing and dancing;
Participate in choral and klezmer ensembles formed by JewJamSouth participants;
Enjoy a full klezmer concert and dance party with the world-famous Strauss/Warschauer duo, pioneering performers of the klezmer revival; and
Learn new musical skills and repertoire to bring back home with you.

Email Bennie Cohen with any questions, and register now, as spots are filling up quickly!