---
Celebrate Yiddish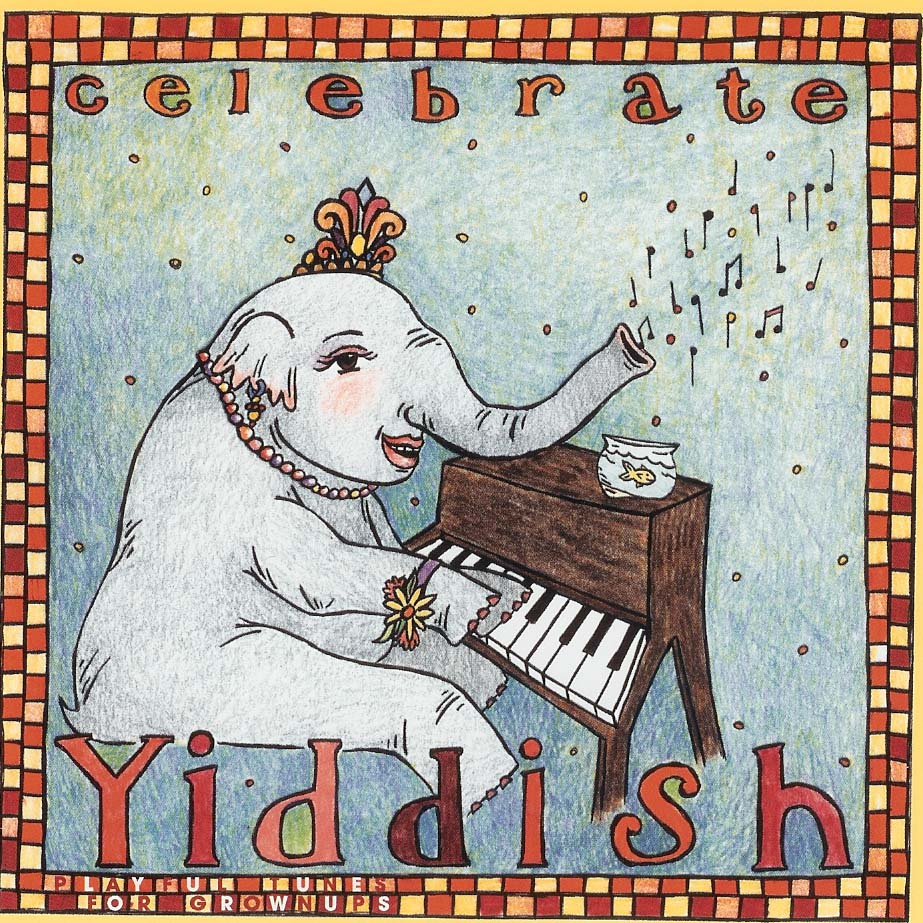 Celebrate Yiddish
Sweet Louise Music, 2004
Craig n Co.
PO Box 601-115
Sherman Oaks, CA 91423
USA
To order, visit www.celebrateseries.com or call (US/Canada) 1-800-6-craig-8.
It wasn't until I sat down with this new anthology in the "Celebrate" series that I realized what a thankless task it was to provide a reasonable taste of Yiddish music, old and new. Consider, if you will, a CD that starts off with Theo Bikel doing a properly cheery "Hulyet, Hulyet Kinderlekh" followed by one of the few "new Yiddish" representations on the album, Chava Alberstein performing "Mirele", which in turn is followed by the theatrical all-male "Tkhiyes Hameysim" by Orthodox star Avraham Fried.
Think about it. How does one even fairly represent the incredibly wide world of Yiddish as it is performed today: from nostalgia to cutting edge? How could one not honor incredible yiddish recordings of the past, from Second Ave. Theatre to the faux traditional folk of the '60s? Would anyone other than Lorin Sklamberg and Frank London have thought to put Adrienne Cooper and Wolf Krakowski side by side: Yiddish art song as sung by the best, with a nicely rocking familiar Yiddish folksong as sung by the bluesy gravel-voiced Wolf Krakowski? The pieces work well off each other, and help convey the breadth of the world. Followed by the incredible Isa Kremer, followed by one of the very special pieces off the most recent Klezmatics album, one is enthralled; the "old-timey" rockin' sound of Di Naye Kapelye is balanced between Nekhama Lifshitz and Seymour Techtzeit.
If I have a complaint it lies only in the urgent need for more volumes of Yiddish song, both old and new. I can speak best for the new when I long to hear some of David Wall's work, or brand new poetry by Sarah Cooper Gordon set to music by Khevre's Michael Winograd, or the amazing new folk renditions of Jeff Warschauer and Deborah Strauss and Josh Waletzky's amazing new poetry and music. I want audiences to hear Yosl Kurland's "Prayer for Peace" and Shirim Klezmer's experimental new renditions of old Yiddish poetry, Golem's punk versions of old Yiddish folksong and Klezroym's experimental and fascinating Holocaust poetry. There are also additional Yiddish sides to the Klezmatics and Brave Old World and Adrienne Cooper that should be brought to a wider audience, as well. And once this is undertaken, perhaps another series could explore older Yiddish theatre and folk. Here's the tip of the iceberg, now let's start to seriously explore.
This is a great start, by gum. I can't think of anything here that isn't incredible and wonderful to have at hand. Taken as a whole, though, there are times that this feels just a bit too diverse. It's like trying to make a CD of all of the music in the world (and after all, Yiddish is sung all over the world, even today—and perhaps moreso today than 30 years ago). But the more I listen, the more I can't think of what I would be willing to give up in breadth. We're standing in front of a firehose, and one CD is enough just to sense "wet." I also want to note how many of these songs are not the old "tried and true". Even when we hear familiar popular songs, such as Seymour Rechtzeit's "Belz" or "Yidl mitn fidl", here sung by Eleanor Reissa, these are versions of the songs less overplayed. Thus, even the familiar becomes new and new proof of the richness of this tradition.
On a final note, I am especially pleased to hear Michael Alpert's anthem, "Klaybt zikh tsunoyf" (Gather Together) close out the album. Long the encore at Brave Old World performances, it is one of my favorite of the "new" Yiddish songs of the last couple of decades, and a perfect way to end an excellent collection. Thank you.
Reviewed by Ari Davidow, 9 Jan '05
Songs
Hulyet, Hulyet Kinderlekh, by Theodore Bikel (Mordecai Gebirtig)
Mirele, by Chava Alberstein (words: Mikhl Wirth; music: Chava Alberstein)
Tkiyes Hameysim, by Avraham Fried (Yom Tov Ehrlich)
Di Krenetse, by the Adrienne Cooper (words: Itzik Feffer; music: Motl Poliansky)
Dona, Dona by Wolf Krakowski (words: Aaron Zeitlin; music: Sholem Secunda)
Rabynu Tam, by Isa Kremer with Shura Olshanetsky and his Orchestra (words: Itsik Manger; music: Herts Rubin)
Barikadn, by Klezmatics (Shmerke Kaczerginsky)
Dos Freylekhe Shnayderl, by Nekhama Lifshitz (words: Joseph Kerler; music: trad.; arr. Lev Kogan)
Drey Dredele, by Di Naye Kapelye (Moishe Oysher; arr. DNK)
Belz, by Seymour Rechtzeit (words: Jacob Jacobs; music: Alexander Olshanetsky)
Yidl mitn fidl, by Eleanor Reissa (words: Itski Manger; music: Abe Ellstein)
Klaybt zikh tsunoyf, by Brave Old World (Michael Alpert)