YiddishFest 2003, NYC, Jun 17
Yiddishfest 2003: Four Generations of Yiddish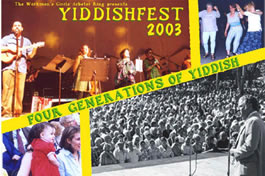 Join The Workmen`s Circle to celebrate 35 years of Yiddish music in our City's Parks!
FREE
June 17 7PM Damrosch Park, Lincoln Center. 6PM Folkdancing (VIP seating available with$150.00 contribution)
Festival Performers include:
Michael Alpert & Klezmer Friends, Adrienne Cooper, Claire Barry, Re'ut Ben-Ze'ev Phyllis Berk, Joanne Borts, Frank London's Klezmer Brass All Stars, Golem, Yale Strom's Hot Pastromi, Margot Leverett & The Klezmer Mountain Boys, King Django, Mikveh, musical director Zalmen Mlotek, and David Stepanovsky.
For more information call the NY Region at: 212 -889 -6800 x270 or email nyregion@circle.org. For updated info check or website at: www.circle.org