"Nice Jewish Girls Gone Bad", NYC, Dec 24
"NICE JEWISH GIRLS GONE BAD" FIRE UP FOR THE HOLIDAYS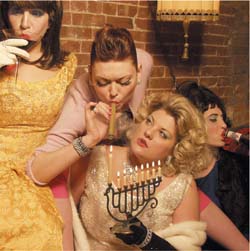 DECEMBER 24th 8pm/10pm
CUTTING ROOM
19 W. 24th St. (btwn 5th-6th)
Ticket:$15
212-691-1900
The holidays are here again and the girls of "Nice Jewish Girls Gone Bad" are back. Why try to score at the Matzo Ball when you can get down with the badass J-girls who take it off and leave you rolling in the aisles.
The last time we caught up with the "Nice Jewish Girls Gone Bad" crew, they were tooling around the Northeast, spreading the love to places such as the Berkshires, the Catskills and Provincetown. Since then, the girls have not only gone international but also Midwestern...imagine that. To think how many East Village acts ever make it across 14th Street? And these broads were in the middle of Chicago, shopping at the Gap nonetheless. I know...it's mind- blowing.
So now the girls are back in the city for the night of yids, AKA Xmas Eve. The night will begin with a special happy hour featuring He'Brew Beer, the chosen brewski... After our brethren get sloshed, it's showtime! It's a night of comedy, music and burlesque, told by the gals who learned to smoke at Hebrew School, got drunk at their Bat-Mitzvahs and would rather have more schtuppa than the chupah. These badass chosen chicks boldly dare to deconstruct years of tradition, expectations and guilt in a fast-paced vaudeville extravaganza, complete with kick lines, punch lines and a rendition of "L'chaim" with a fist in the mouth. This ain't yo' mama's "Fiddler".
"Nice Jewish Girls Gone Bad" celebrates its second annual Xmas Eve event. Last year's show was a sold sensation and this year promises to be just as spectacular, featuring the talent of comedians Ophira Eisenberg (Comedy Central), Rachel Feinstein (Comedy Central), Rena Zager (NBC), Cynthia Levin (Comedy Central), Sara Barron (Aspen Comedy Festival), singer/songwriter Michelle Citrin, Burlesque Superstars, Little Brooklyn and Miss Rose Wood and hosted by the Goddess Perlman. This show has been wowing sold-out crowds in NYC, Philadelphia, DC, Pittsburgh, Chicago, Madison, Detroit, Montreal, Burlington, Provincetown, the Berkshires, the Hamptons and of course the Catskills.
This is a very special and unique show, even if you are not Jewish, you' ll have a great time watching "those crazy yids" work it. It's almost like being be a M.O.T* for the night without the guilt, nagging mother and 10 hour seders. Get your dreidal on and get down.
*M.O.T-Member of the Tribe