National Spiritual Ensemble + Yiddish Community Chorus + Guests, Newton, MA, Apr 3
On My Grandmother's Knee
Saturday, April 2, 8pm
Sunday, April 3, 2pm
Featuring
The National Spiritual Ensemble
and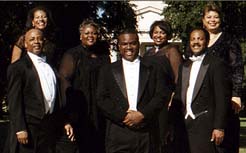 A Besere Velt: Yiddish Community Chorus of the Workmen's Circle
With special guests
Hankus Netsky and Adrienne Cooper
Two stunning vocal ensembles come together to present a soul-stirring concert of music. Performances are Saturday, April 2 at 8pm and Sunday, April 3 at 2pm.
Performances will be held at the Leventhal-Sidman Jewish Community Center, 333 Nahanton Street in Newton.
Tickets are $22 adult, $24 senior and $12 for children 18 and under.
For ticket information contact the JCC Box Office at 617-965-5226. Web: lsjcc.org
*This event was rescheduled from Jan 22-23 snowed cancellation.

The songs that are passed from generation to generation have the power to touch the depths of our souls, The National Spiritual Ensemble, dedicated to preserving the Negro spiritual, and A Besere Velt: Yiddish Community Chorus of the Workmen's Circle, celebrating the Yiddish folk tradition—take us through a musical journey of suffering and hope. Together these two vocal ensembles breathe new life into traditional music that not only captures a moment in history, but also is the voice of a people and a part of our shared cultural experience.
About the performers:
A Besere Velt (A Better World) Yiddish Community Chorus of the Workmen's Circle
Continuing a 100-year tradition of community based Yiddish choruses. A Besere Velt has been the pioneer in bringing new life and contemporary meaning to the world of Yiddish folk music. The key: a unique blend of cultural heritage, community and dedication to a besere velt—a better world.
Founded by the arm of the Workmen's Circle in 1997 under the direction of Lisa Gallatin, A Besere Velt is now 80 members strong and is the largest Yiddish chorus in existence today, Their musical repertoire grew out of shtetls and sweatshops and union meetings, the camps and ghettos. Making the richness of the Eastern European and Jewish immigrant experience accessible to a generation of non-Yiddish speakers, these folk songs contain the sounds of the history, the culture and the values that would influence generations to come.
New England Spiritual Ensemble
"Songs that soothe the soul", is how the New England Spiritual Ensemble describes the traditional American Negro Spirituals which form the ensemble's repertoire and frame its mission.
The New England Spiritual Ensemble is a group of conservatory trained professional singers who are exceptional communicators and their performances are captivating and a totally engrossing, The ensemble is devoted to "preserving the art and tradition of Negro spirituals" and is modeled after the classically trained Fisk Jubilee Singers. They perform Negro Spirituals in both traditional arrangements and in arrangements by more modern African–American composers. The ensemble, which made its debut at Boston Symphony Hall in 1994, maintains a rigorous tour schedule.
Adrienne Cooper, vocalist
Internationally recognized as one of this generation's most influential performers of Yiddish vocal music, Adrienne Cooper appears on concert, theater and club stages around the world and her singing has been featured on some twenty recording including the Grammy nominated "Partisans of Vilna".
Hankus Netsky
Piano and accordian
A multi-instrumentalist and composer, Hankus Netsky has taught at New England Conservatory of music for over 25 years and is the founder and director of the Klezmer Conservatory Band, an internationally renowned Yiddish music ensemble. He has lectured on Jewish music in the U.S., Canada and Europe and as a composer, director and collaborator has contributed to numerous film, radio, theater and recording projects.
The Jewish Theatre of New England is located at the Leventhal-Sidman Jewish Community Center, 333 Nahanton Street in Newton. For ticket information contact the JCC Box Office at 617-965-5226.