The White Pajamas, Brooklyn, NY, Jun 16-19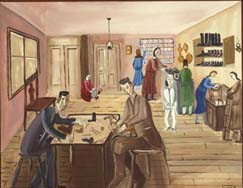 ARTS AT ST. ANN'S PRESENTS Great Small Works
at the 7th INTERNATIONAL TOY THEATER FESTIVAL
and Temporary Toy Theater Museum
THE WHITE PAJAMAS
A hand-painted ethnographic motion picture with vivid commentary, performed live!
With MAYER KIRSHENBLATT and JENNY ROMAINE
St. Ann's Warehouse, 38 Water Street, DUMBO, Brooklyn, NYC
Thu 6/16 at 7:30pm; Fri 6/17 at 10pm; Sun 6/19 at 7:30 pm
www.greatsmallworks.org/ttf_2005.html
(718-254-8779)
www.nyu.edu/classes/bkg/mayer/MK_toytheater.pdf
Paintings by Mayer Kirshenblatt
Direction, dramaturgy by Jenny Romaine
Design: Jenny Romaine with Trudi Cohen
Story and text excerpts from They Called Me Mayer July: Painted Memories of a Jewish Childhood in Poland before the Holocaust by Mayer Kirshenblatt and Barbara Kirshenblatt-Gimblett
Additional writing: Jenny Romaine
Soundtrack: Kenny Wollesen
Lest future generations know more about how East European Jews died than how they lived, Mayer has made it his mission to remember the world of his childhood and to record everything he can recall about his town, the people who lived there, and daily life. The paintings describe through composition, choice of subject matter and color, the life of an early 20th century Polish/Yiddish town. They are sensual, visual documents of a way of life. They are not "remnants" of a world destroyed, but "vibrants". Romaine chose to partner with Kirshenblatt precisely because, in his hands, this information was captured in LIVING color. Romaine and Kirshenblatt were commissioned to create the WHITE PAJAMAS by the French Ministry of Culture and the Festival International de Papiertheatre, Mourmelon, France with support from the National Foundation for Jewish Culture.
Performed by John Bell, Trudi Cohen, Mayer Kirshenblatt, Jennifer Miller, Jenny Romaine, Ayesha Sampson, and Kenny Wollesen. Puppet and stage construction: Jenny Romaine, Trudi Cohen, Vanessa Bergonzoli, John Bell, Mark Sussman, Alessandra Nichols, Marianna Ridgell, Gabe Levine, Hermine Ortega, and Patricia Llosa. Production associate: Ariella Wurtzel
Mayer Kirshenblatt was born in Poland in 1916 and left when he was 17 years old. With no more than seven years of schooling, he taught himself to paint at the age of 75. During the last fifteen years, he has produced more than 250 paintings and many drawings. His work is evidence of his insatiable curiosity, passion for close observation of daily life, extraordinary memory, and a creativity that blossomed late in life. Every painting tells a story and these stories, together with the paintings, are the basis for a book, They Called Me Mayer July: Painted Memories of a Jewish Childhood in Poland before the Holocaust, and exhibition. His work has been widely exhibited in solo and group shows organized by the Smithsonian Institution and the Aird Gallery, among others. A highlight of his career as an artist has been the chance to collaborate with Jennifer Romaine on transforming his paintings and stories into toy theater.
Jenny Romaine is a founding member of Great Small Works and music directs/performs in Jennifer Miller's CIRCUS AMOK. She has committed over 2 decades to the cultivation of new Yiddish culture, theater and community based performance art. She was music archivist at the YIVO Institute for 13 years and draws on diverse Yiddish primary source material to create new art with contemporary meaning. Her work rewards thought, refuses sentimentality, and delivers the energy of a rock show. In the Yiddish world she has directed community based spectacles with Jews for Racial and Economic Justice, The Ashkenaz Festival of New Yiddish Culture, Yiddishkayt LA, KlezKamp (Youth Theater Workshop), The Workmen's Circle (Purim Shpiln), Klezkanada, and others. Romaine performs and designs for the Folksbiene Yiddish Theater's hit family show, "Kids and Yiddish" and directed the " Memoirs of Glikl of Hameln" with Frank London and Adrienne Cooper. She is currently working on the BETTY BOOP SUITE with Trumpet Princess Susan Watts, and animator Mornography. She was awarded a New York Foundation for the Arts artists fellowship in 1998, and a New Play Commission in Jewish Theater from the National Foundation for Jewish Culture in 2003.
Special thanks to Barbara-Kirshenblatt-Gimblett, Max Gimblett, Isaac Bell, Elaine Silver, Doris Kirshenblatt, All the members of GSW!, Vanessa Bergonzoli, the cast, Alain Lecouc, Adrienne Cooper, Frank London, Robert Poulter, Marsha Gildin, Judith Helfand, SoCalled, The Romaines, the 2004 Toronto snow posse: David Buchbinder and Rulla Said, Marilyn Lerner, Noam Berlin, Doron Berlin, and Daniel Berlin, and everyone who helped in the unheated studio! Mayer extends special thanks to Anurima Banerji, Julia Bloomfield, Frederic Brenner, Anna R. Cohn, Sarah Curran, Joost Elfers, Grace Cohen Grossman, Gershon Hundert, Elizabeth Kurkjian; Robert Kissen, Bruce Mau, Donald Preziosi, Joan Tooke, Jill Vexler, Carol Zemel, Matthew Zimmerman and all those who have supported his work.
Gratitude to our funders: Frances Stern and Benjamin Feldman, the Mattsons, and the David Gildin Foundation. Mayer Kirshenblatt is the proud recipient of a grant from the Toronto Jewish Arts Council of the UJA Federation of Greater Toronto.