A Day in Yiddishland, Palo Alto, CA, Apr 30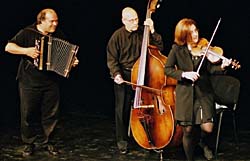 A Day in Yiddishland: Klezmer Music and Yiddish Culture Program for all ages
Sunday, April 30th, 9:30am - 6:00pm, Kehillah Jewish High School, 3900 Fabian Way, Palo Alto, held in collaboration with the Albert L. Schultz JCC.
Join us for a fun filled day of workshops and classes in Klezmer music for all levels, special presentations and lectures, Yiddish language and humor, sing-alongs, dancing, art, special teen workshops, youth programs for ages 5 and older. Featuring fabulous teachers of the internationally renowned klezmer band Veretski Pass, special Yiddish dance teacher from Chicago, and Stanford lecturers. Check website to get the latest information.
Space is limited! Please preregister online or by mail, see web site at www.klezcalifornia.org for details. General admission $20, Students $15, Seniors $15, ALSJCC members $15, children $5.