Alicia's Klezmer Party, NYC, Apr 1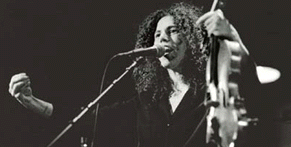 Saturday, April 1, 2007, 10:30 a.m. at Lucille Lortel Theatre: Theatreworks presents Alicia's Klezmer Party.
Alicia's Klezmer Party brings the joyful sounds of traditional Ashkenazic Jewish dance music to young ears and feet. World-renowned klezmer fiddler Alicia Svigals, accordionist Art Bailey, and Yiddish singer Magda Fishman raise the roof with hot klezmer tunes and get kids and adults clapping and stamping along. Children learn Yiddish words and shtetl-flavored melodies to sing along and bring home to their own holiday celebrations. Alicia's Klezmer Party brings to life the ecstatic and poignant sounds that must have emanated from Chagall's original fiddlers, a magical journey for kids and parents of all backgrounds.
http://www.lortel.org/LLT_theater/g_information/
www.ticketcentral.com
tix 212 279 4200
Violinist Alicia Svigals, considered by many to be the world's leading klezmer fiddler, founded Jewish roots band the Klezmatics and her current group, the all-female Mikveh. As a musician and composer, she's worked with Led Zeppelin's Robert Plant and Jimmy Page, the Ben Folds Five, playwrights Tony Kushner (Angels in America) and Eve Ensler (the Vagina Monologues), poet Allen Ginsburg, violinist Itzhak Perlman, the Kronos Quartet, Jewish spiritual singer/songwriter Debbie Friedman, cantor Avraham Fried and many others. She has appeared on David Letterman, MTV, Good Morning America, PBS' Great Performances, and NPR's Prairie Home Companion, Weekend Edition and New Sounds. Her solo album Fidl is the world's first klezmer violin CD. She loves to play weddings and bat/bar mitzvahs and can be reached at her website: www.aliciasvigals.com. "...violin playing with depth and urgency..." L.A. Times