Vodkazak w/Alicia Svigals+Metropolitan Klezmer, Brooklyn, NY, May 20, 2007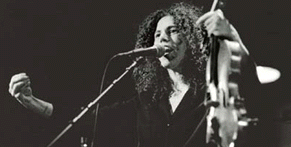 Klezmerized!
Sunday, May 20 2007, 2pm
Vodkazak, with Alicia Svigals at Brooklyn Center for Performing Arts
Alicia's program of Lubavitcher Hasidic "nigunim" (wordless spiritual songs) played on fiddle, mandolin, accordion and bass.
with Metropolitan Klezmer, which performs Yiddish swing and tango, dance and trance folk traditionals, wondrous originals, Balkan brass and Latin groove klezmer melanges, music of the Soviet Yiddish theater and crypto-klezmer Broadway.
Single Ticket Price: A: $25 B: $25
Walt Whitman Auditorium,
located at Brooklyn Center for the Performing Arts at Brooklyn College. (Flatbush and Nostrand Avenues at the Junction.)
Box Office 718-951-4600
www.brooklyncenter.com
Violinist Alicia Svigals, considered by many to be the world's leading klezmer fiddler, co-founded both the Jewish roots band the Klezmatics and her current group, the all-female Mikveh. As a musician and composer, she's worked with Led Zeppelin's Robert Plant and Jimmy Page, the Ben Folds Five, playwrights Tony Kushner (Angels in America) and Eve Ensler (the Vagina Monologues), poet Allen Ginsburg, violinist Itzhak Perlman, the Kronos Quartet, Jewish spiritual singer/songwriter Debbie Friedman, cantor Avraham Fried and many others. She has appeared on David Letterman, MTV, Good Morning America, PBS' Great Performances, and NPR's Prairie Home Companion, Weekend Edition and New Sounds. Her solo album Fidl is the world's first klezmer violin CD. She loves to play weddings and bat/bar mitzvahs and can be reached at her website: www.aliciasvigals.com. "...violin playing with depth and urgency..." L.A. Times