Alicia Svigals Klezmer Fiddle Party, NYC, Jul 6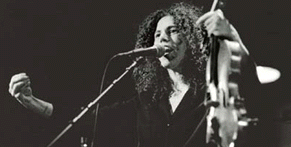 Alicia Svigals' Klezmer Fiddle Party
Looking for a great klezmer band for a celebration? World-renowned klezmer fiddler Alicia Svigals' party band is playing a free lunchtime concert 12:30 on Thursday in the East Village; a wonderful opportunity to experience the band live.
It will be an all-klezmer show, but bar/bat mitzvah and wedding information packages, with recordings of our musicians playing rock/jazz/R&B etc, will be available upon request!
Thursday, July 6, 12:30 p.m., at Abe Lebewohl Park (formerly St. Mark's Park)Second Avenue and 10th Street, in front of historic St. Mark's Church-in-the-Bowery. Free admission—rain or shine!
For further info, click on "Music in Abe Lebewohl Park" at the top right. Part of the Third Street Music School Settlement's concert series.