Deep Minor, NYC, Nov 8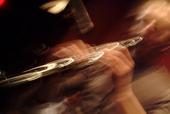 Featuring: Brandon Seabrook, Reuben Radding, Aaron Alexander, and Alex Kontorovich
Makor, November 8th , 2006: 9:30 PM Concert
(35 West 67th Street).
Tickets are $12. Call 212.415.5500 or visit www.makor.org for more information and online ticket purchase.
About Deep Minor:
Dive into the rambunctious rhythmic grooves and lose yourself in the intimate improvisations of Deep Minor – the latest project of all original compositions from reedman/bandleader Alex Kontorovich. To create this high energy quartet, Kontorovich joins forces with three premiere world jazz musicians: Brandon Seabrook (banjo/guitar/tapes), Reuben Radding (bass), and Aaron Alexander (drums). Mixing funk, Afro-Cuban, klezmer and Balkan influences, Deep Minor is an exciting new group on the New York jazz scene.
About Alex Kontorovich:
Twenty six year-old clarinetist and saxophonist Alex Kontorovich was born in Russia and currently resides in New York City. He has worked alongside musicians such as Frank London, Theodore Bikel, Brad Shepik, Steven Bernstein, David Krakauer, Michael Alpert, Alicia Svigals, and many others. He has performed all over the world at venues such as the Lincoln Center and Birdland in New York; the Royal National Theatre in London; the National Arts Centre in Ottawa; Planet Music in Vienna; the Hackesches Hoftheatre in Berlin; the Jewish Culture Festival in Krakow; and the Beer Festival in Tel Aviv.
Numerous ensembles have requested his talents onstage and in the recording studio, including the National Arts Centre Orchestra; Jamie Begian's Big Band; ska superstar King Django; Serbian brass legend Boban Markovic; DJ SoCalled; and a slew of klezmer and world music groups such as the Klezmatics, Frank London's Klezmer Brass All-Stars, the Klez Dispensers, and Aaron Alexander's Midrash Mish Mosh. Alex is on the faculty of the KlezKamp, KlezKanada, Yiddish Summer Weimar, the Klezmer Heritage Cruise and International Klezmer Festival Furth, and produced a recording of the late legendary Moldavian clarinetist German Goldenshteyn. He is also pursuing a Ph.D. in mathematics at Columbia University.
"... a gem of an alto [sax] solo from up-and-coming horn player Alex Kontorovich." Review of Frank London's Klezmer Brass All-Stars "Carnival Conspiracy", Elliott Simon, All About Jazz NY.