Andy Statman Trio, Sacramento, CA, Dec 4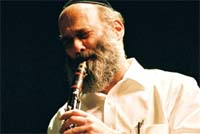 Andy Statman Trio
Sacramento City College Auditorium
3835 Freeport Blvd. at Sutterville Road
Sacramento, CA
8 PM, Monday, December 4, 2006
Tickets $20 available at Kline Music and at the door.
Andy Statman - Clarinet, Mandolin
Jim Whitney - Double Bass
Larry Eagle - Drums, percussion
Concert of klezmer clarinet and American roots/progressive bluegrass mandolin music.
Information: (916) 642-2011 or www.sactoconcerts.com
And some quotes from the press:
The New Yorker, May, 2006: "The clarinet and mandolin virtuoso, Andy Statman, [plays] bluegrass, jazz, and klezmer music with inspired grace."
"He's one of the high priests of music ...he's been a huge inspiration to me." - Béla Fleck
Jon Pareles, the New York Times, 11/5/04: "Andy Statman goes deep into old styles to renew them. As a klezmer clarinetist who was a major force in the klezmer revival, he studied with elders who were close to the music's Eastern European and Balkan roots, but recently he has been exploring klezmer as an ecstatic music, hearing cantorial echoes in John Coltrane. And as a mandolin player, he delves into bluegrass but also makes jazz connections."