Jewmongous, Bellmore, LI, NY, Dec 21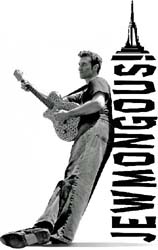 From the creator of the comedy song sensation "What I Like About Jew" and the founder of Rockapella comes a newly erected, Jew-themed, comedy song variety show: JEWMONGOUS!, featuring Sean Altman and guests Todd Barry, Jonathan Coulton, Tammy Faye Starlite, Cynthia Kaplan and Steve Goodie. All faiths welcome, especially Jews.
12/21 - The Brokerage, Bellmore, Long Island, NY (7pm)
JEWMONGOUS! - a comedy song variety show - is the colicky, uncircumcised brain child of SEAN ALTMAN, the song-writing wiz behind the pioneering comedy song act What I Like About Jew. In the aftermath of the act's debut CD "Unorthodox" in 2006, What I Like About Jew was featured on NPR's "Fresh Air With Terry Gross", rocketed into the Top 50 on Amazon.com, and is currently being fashioned into an off-Broadway musical by genuine Jewish theater producers. As a solo artist, Sean has released three albums and was named "Best Male Artist" in the 2005 International Acoustic Music Awards. The anti-Kurt Cobain" (NY Press) and "absurdly talented performer" (Village Voice) has "killer hooks" (Time Out NY), "a cynical edge" (Philadelphia Daily News), and a "silky tenor voice that produced chills" (NY Times). Sean is best known as the founder and former leader of the vocal group Rockapella - stars of the TV series "Where In The World Is Carmen Sandiego?", for which Sean co-wrote the famous theme song (with Broadway's David Yazbek). He is a member of the Loser's Lounge series in New York, he sings with Kol Zimra and Voices For Israel, he pitches Astelin nasal spray on TV as a member of the acapella group The GrooveBarbers, and his songs have been featured in dozens of TV shows.
RAVES FOR SEAN'S "WHAT I LIKE ABOUT JEW" SONGS
"Giants of Jewish joke-pop, but you can also hear some Beatles in their risqué borscht-belting-not to mention a reverence for tradition... Ethnic pride mixed with high camp."—New York Times
"Racy and funny and smart and affectionate, written for a generation of fully assimilated Jews who grew up on punk rock and 'South Park.'"—Boston Globe
"Bawdy cabaret with a wicked modern streak... Cheerfully crass... with style and guts and a tune you can groove to."—Washington Post
"Irreverent and hilarious, a smorgasbord of dirty humor, high wit and musical lunacy. Think Lenny Bruce meets Mel Brooks meets Sarah Silverman."—Baltimore CityGuide
"Sly and hilarious."—Village Voice
"Subversively funny... Ribald, impolite, politically incorrect... Deliriously kitschy."—Boston Herald
"Bart Simpsons of the Yeshiva... A roving celebration of Hebraic song and culture."—Time Out New York
"An irreverent and hilarious musical revue."—Bergen Record
"Bawdy borscht-belt comedy... Catskills seltzer-bottle humor to a dirty new low, with lyrics that make Lenny Bruce look like a choirboy."—Philadelphia Weekly
"Not since Kinky Friedman has Hebraic-humored folk been as funny and as literate."—Philadelphia Inquirer
"(This) self-deprecating humor is chicken soup for the Jewish soul."—Philadelphia City Paper
"A tongue-in-cheek New Jew revue."—New York Magazine
GUEST BIOS:
TODD BARRY (NYC show) was Entertainment Weekly's 2003 "It Standup" selection on their "It List". He's appeared on Letterman, Conan O'Brien, Carson Daly, Jimmy Kimmel Live, Comedy Central's Friar's Roast of Chevy Chase, "Space Ghost Coast To Coast", and in his own two "Comedy Central Presents" specials. His acting credits include "The Larry Sanders Show", "Sex And The City", "Spin City", "Chappelle's Show", "Road Trip", "Lucky Louie", "Wonder Showzen", and "Pootie Tang". He's done cartoon voice work on "Dr. Katz", "Aqua Teen Hunger Force", "Home Movies", "Squidbillies", "Hey Monie", and "Freak Squad." Todd has even done shows with The New Pornographers, Yo La Tengo, The Shins, Aimee Mann, They Might Be Giants, and Luna. He's appeared at the Melbourne International Comedy Festival in Australia, the Just For Laughs Festival in Montreal, The Edinburgh Fringe Festival in Scotland, and US Comedy Arts Festival in Aspen, where he won the Jury Award for Best Stand Up Comic. His latest CD/DVD, "Falling Off the Bone" was released on Comedy Central Records.
JONATHAN COULTON (NJ show) is the Contributing Troubadour for Popular Science magazine, and a geek rock superhero. His songs about vengeful nerds, ennui-afflicted clowns, and self-loathing giant squids are insanely clever without ever being too clever for their own good - they repeatedly lure you into laughing before suddenly breaking your heart. For the past year he has published a new song every week for free on his website in an ambitious project called Thing a Week, spawning a few honest to goodness internet smashes like "Code Monkey" and his folky cover of Sir Mix-a-Lot's "Baby Got Back." He is ready to soft rock your socks off.
TAMMY FAYE STARLITE (Long Island, Philadelphia shows) is a country-singer-cum evangelist who has spent most of her pre-teen years preaching His Word in these 48 contiguous United States. She is currently on her Soul Harvest/Gospel Tour 2006, and is pleased to spread in Phildaelphia. Tammy is proud to be affiliated with Colorado Springs' New Life Church.
STEVE GOODIE (NYC, VA, MD, MA shows) is a Nashville-based comedian singer/songwriter with credits coming out of his ass: The Today Show (NBC), The Howard Stern Show, and syndicated giants Dr. Demento and The Bob & Tom Show.
CYNTHIA KAPLAN (all shows) is the author of Why I'm Like This: True Stories (William Morrow, 2002) and the upcoming Leave the Building Quickly (Morrow, May 2007), and her comic essays have been published in many magazines, newspapers, and anthologies. She, herself, has appeared in many plays and some movies, as well as in comedy and rock clubs in New York and other cities. People Magazine called her "A literary star" and Time Out New York said she was "one of downtown's coolest actors...You'll laugh until you can't breathe."