Israeli-Palestinian Comedy Tour, Jerusalem, Israel, Jan 24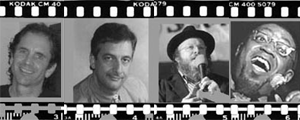 A clash of civilizations! Jews, Muslims and Christians mortal enemies! Humanity itself on the brink of collapse!
The headlines coming out of the Middle East leave us with little to smile about these days. War and turmoil are seemingly so constant, one would think Israelis and Palestinians incapable of getting together and sharing a good laugh.
Here to put this misconception to rest are Charley Warady and Ray Hanania, two comedians - one Israeli, one Palestinian - who have put their religious and political differences behind them and joined forces to inject some much needed laughter into our embattled landscape.
The Israeli-Palestinian Comedy Tour
Wed., Jan 24, 9PM キ Syndrome, Jerusalem
Sat., Jan 27, 9PM キ Tzavta 3, Tel Aviv
Wed., Jan. 31, 9 PM キ Kol Haneshama, Jerusalem
More dates TBA
Charley Warady, host of the popular Israelisms podcast, headlinedcomedy clubs and colleges all across the US, appearing on both NBC and Comedy Central, before emigrating to Israel ten years ago. He has continued his career in Israel, performing in English as part of the Off The Wall Comedy series, targeting every aspect of life and politics
in Israel.
Ray Hanania is a Palestinian-American standup comedian and an award-winning columnist for publications such as Yediot Ahranot's English website ynetnews.com. He is the most-written about Arab and Palestinian comedian in America today.
Together with Aaron Freeman, a popular columnist, radio commentator, and Black convert to Judaism (whose comic strip 52 Portions is a regular feature on JVoices); Yisrael Campbell, a Catholic convert to Judaism who made aliyah six years ago; and Shachar Chason, one of Israel's most popular standup comedians, Warady and Hanania will tour Israel this winter to warm audiences with their eclectic blend of comedy, riffing on all matters sacred and profane.
The Israeli-Palestinian Comedy Tour is co-sponsored by Corner Prophets, an initiative which promotes coexistence between Israelis and Palestinians through the creative arts.