22nd Annual Jewish Music Festival, San Francisco Bay Area, CA, Mar 8-25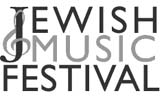 This year's Festival will be held from March 8-25 and feature concerts throughout the Bay Area. Performers include Aires de Sefarad; Michael Alpert; Peter Apfelbaum; Avi Avital; Steven Bernstein; Dan Cantrell; Kitka; Klezmer Buenos Aires; Pharaoh's Daughter and more!
Tonight: Klezmer Buenos Aires: Lerner Moguilevsky Duo is a brilliant virtuosic duo, direct from Argentina, presenting a stellar blend of klezmer, Argentinean folk music, tango and jazz improvisation. Their stunning virtuosity on flutes, wooden flutes, bagpipe, duduk (wind instrument), clarinet, bass clarinet, soprano sax, harmonica, accordion, piano and percussion makes the two of them sound like an orchestra.
For more information: www.jewishmusicfestival.org