22nd Annual Jewish Music Festival, San Francisco Bay Area, CA, Mar 8-25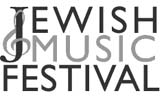 This year's Festival will be held from March 8-25 and feature concerts throughout the Bay Area. Performers include Aires de Sefarad; Michael Alpert; Peter Apfelbaum; Avi Avital; Steven Bernstein; Dan Cantrell; Kitka; Klezmer Buenos Aires; Pharaoh's Daughter and more!
Today: Tales from Terezin: A Musical Journey: Violinist Randall Weiss first became interested in the music performed at Terezín when he was asked to play a string trio by Czech composer Gideon Klein. In search of information about Klein, Weiss called on his former teacher Paul Kling, who had been Klein's chamber music partner in the concentration camp. Weiss will be joined by cellist Victoria Ehrlich, violist Natalia Vershilova and violinist Leslie Ludena in performing string chamber music by Gideon Klein, as well as Hans Krása, Zikmund Schul and Viktor Ullmann.
In memory of Sylvie Braitman, 1956-2006
For more information: www.jewishmusicfestival.org