22nd Annual Jewish Music Festival, San Francisco Bay Area, CA, Mar 8-25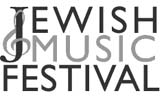 This year's Festival will be held from March 8-25 and feature concerts throughout the Bay Area. Performers include Aires de Sefarad; Michael Alpert; Peter Apfelbaum; Avi Avital; Steven Bernstein; Dan Cantrell; Kitka; Klezmer Buenos Aires; Pharaoh's Daughter and more!
Today: The Symbolic Power of Jewish Music—A conversation with vanguard musicians of John Zorn's Tzadik Radical Jewish Culture CD label….
also: Pharaoh's Daughter—Blending psychedelic sensibility and pan-Mediterranean sensuality, Basya Schechter leads her New York band through Hasidic chants and Mizrachi and Sephardi folk-rock, filtered through percussion, flute, strings and electronica.
For more information: www.jewishmusicfestival.org