22nd Annual Jewish Music Festival, San Francisco Bay Area, CA, Mar 8-25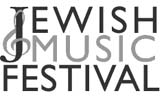 This year's Festival will be held from March 8-25 and feature concerts throughout the Bay Area. Performers include Aires de Sefarad; Michael Alpert; Peter Apfelbaum; Avi Avital; Steven Bernstein; Dan Cantrell; Kitka; Klezmer Buenos Aires; Pharaoh's Daughter and more!
Tonight: Steven Bernstein, with Peter Apfelbaum and Friends, presents "Diaspora Blues." Originally from Berkeley, these now New York-based cutting edge composer/ performers are stretching the definition of Jewish music.
For more information: www.jewishmusicfestival.org