22nd Annual Jewish Music Festival, San Francisco Bay Area, CA, Mar 8-25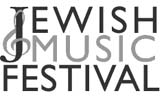 This year's Festival will be held from March 8-25 and feature concerts throughout the Bay Area. Performers include Aires de Sefarad; Michael Alpert; Peter Apfelbaum; Avi Avital; Steven Bernstein; Dan Cantrell; Kitka; Klezmer Buenos Aires; Pharaoh's Daughter and more!
Tonight: Noa—Known in Israel by her given name Achinoam Nini, Noa is Israel's leading international concert and recording artist. Born in Tel- Aviv in 1969, Noa lived in New York City from age 2 until her return to Israel alone at the age of 17. Her family is originally from Yemen. After serving the mandatory two years in the Israeli Army in a military entertainment unit, Noa studied music at the Rimon School where she met her long-time partner and collaborator Gil Dor.
and: Poetry Slam on the theme of Diaspora—The three finalists will have the opportunity to showcase at Community Music Day for additional monetary prizes.…
For more information: www.jewishmusicfestival.org