22nd Annual Jewish Music Festival, San Francisco Bay Area, CA, Mar 8-25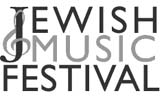 This year's Festival will be held from March 8-25 and feature concerts throughout the Bay Area. Performers include Aires de Sefarad; Michael Alpert; Peter Apfelbaum; Avi Avital; Steven Bernstein; Dan Cantrell; Kitka; Klezmer Buenos Aires; Pharaoh's Daughter and more!
Today: Community Music Day: Poetry Slam Finals, interactive workshops, children's concert, Instrument Petting Zoo, and performances throughout the day showcasing high quality local artists. Guaranteed to bring out your inner musician.
For more information: www.jewishmusicfestival.org