Alicia Svigals w/pianist Uli Geissendoerfer, NYC, Jun 29, 2007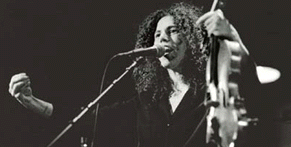 Alicia Svigals
A collaboration with pianist Uli Geissendoerfer, whose imaginative responses to Alicia's klezmer fiddling offers a fresh perspective on this old and beautiful tradition. At 9 p.m., after Alicia and Uli's set, raga singer Steve Sandberg and his band perform -- and Alicia and Uli will sit in.
Friday, June 29 at 8 pm
Sideshow Gallery
319 Bedford Avenue
718-486-8180
$10
On the L Train.
Sideshowgallery.com
Alicia Svigals is the world's leading klezmer fiddler and a co-founder of the Grammy-winning Klezmatics, with whom she performed for seventeen years. She has played with and written for violinist Itzhak Perlman, the Kronos Quartet, playwrights Tony Kushner and Eve Ensler, the late poet Allen Ginsburg, Robert Plant and Jimmy Page of Led Zeppelin, singer/songwriter Debbie Friedman, Hasidic superstars Avraham Fried and Lipa Shmelzer, and many others. She has appeared on David Letterman, MTV, Good Morning America, PBS' Great Performances, on NPR's Prairie Home Companion, Weekend Edition and New Sounds, and on the soundtrack for the L-Word. She also has a busy party band, sought after for weddings and bar/bat mitzvahs.
Pianist, composer and arranger Uli Geissendoerfer is a versatile and remarkable musician exploring rhythms and melodies across many styles of music, with a special emphasis on Latin and modern jazz and improvisation. Originally from Munich he has worked with among others William Cepeda (awarded a Grammy nomination), Jimmy Cobb, Tito Puente, Giovanni Hidalgo, Blood Sweat & Tears, Leslie Uggams, Cirque du Soleil and Ute Lemper.
His current projects include DE.US a Bavarian World Jazz crossover and Bangalore Breakdown an Indian World Jazz project featuring Premik Russell Tubbs and Badal Roy. You may reach Mr. Geissendoerfer at ulimusic@gmail.com.
Emmy-nominated composer, vocalist and keyboardist Steve Sandberg has worked with musicians from all over the globe. His encounter with noted African art theorist Robert Farris Thompson inspired him to immerse himself in the world of Afro-Caribbean, Brasilian and eventually North Indian music. He has toured with Celia Cruz, Bebel Gilberto, Ruben Blades and David Byrne. He is the musical director and composer for the hit children's TV series "Dora the Explorer" and "Go, Diego, Go" and studies raga singing with Ustad Mashkoor Ali Khan.