Second Annual NY All Star Yiddish Sing-along, NYC, Oct 25, 2007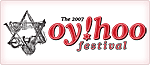 Oyhoo Festival
The Second Annual New York All Star Yiddish Sing-along will take place on Thursday, October 25, 7:30pm at Congregation Rodeph Sholom, 7 West 83rd Street. Come join our illustrious musical director Zalmen Mlotek and many of our most beloved Yiddish performers in a fun-filled, unique and heartwarming celebration of Yiddish music.
Those of you who participated in the first Sing-along last September will remember the excitement of sharing dozens of beloved Yiddish folk-songs, art songs, songs of social significance, children's songs, and theater songs with hundreds of others, filling the magnificent Rodeph Sholom sanctuary with the moving sounds of "mame-loshn." You may have even noticed a few people holding up their cell phones so that parents and friends in remote locations could hear the beautiful sounds.
Among the performers who will lead us in "gezang-b'tsiber" are
Robert Abelson / Michael Alpert / Phyllis Berk / Joanne Borts / Caroline Chanin / Adrienne Cooper / Ron Eliran / Debbie Friedman / Michael Fox / Rebecca Garfein / Sarah Gordon / Reyna Schaechter / Basya Schechter / Elizabeth Schwartz / Lorin Sklamberg / The Strauss-Warschauer Duo
and
The New Yiddish Chorale, under the leadership of Zalmen Mlotek
The Jewish People's Philharmionic Chorus, led by Binymen Schaechter
An All Star Klezmer ensemble will accompany you. You will be able to follow along with the provided lyrics (in English transliteration.)
General admission will be $18 if purchased in advance, and $20 on the day of the Sing-along.
VIP seating with a post-concert reception is available @ $50 if purchased in advance and $60 on the day of...
15% Group Discount (20 or more People)
Please give us a call at 212-683-7816 if you would like to order tickets or if you have any questions.
We welcome your suggestions for songs to be included.
Sponsoring organizations include The National Yiddish Theatre/Folksbiene, The Workmen's Circle/Arbeter-Ring, Yugntruf-Youth For Yiddish, Congregation Rodeph Sholom, Congresss for Jewish Culture.
This Sing-along is produced by Golden Land Concerts & Connections, Moishe Rosenfeld, President, and is a part of the 5th Annual Oyhoo Festival - Michael Dorf, Executive Producer.
Please join us. IR VET KVELN FUN NAKHES UN FARGENIGN (you'll have a blast!)