Maxwell Street Klezmer, Lincolnshire, IL, Oct 13, 2007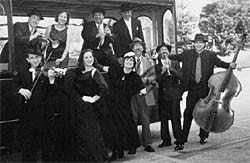 Start off the Jewish New Year with a celebration of old-country spirit and soul music!
Maxwell Street Klezmer Band
Including "Dancin' Steve" Weintraub
Sat, Oct 13 2007, 7:30 pm
Stevenson High School Performing Arts Center
1 Stevenson Dr.
Lincolnshire, IL
Tickets: Adults $15, Senior/Students $13
Call: 847.634.4000 x1882
The Maxwell Street Klezmer Band, founded in 1983, has also recorded four CDs, including "You Should Be So Lucky!" and "Old Roots, New World" on the Shanachie label. A local Chicago favorite, the band has also performed at Carnegie Hall in New York; and toured Europe seven times, including a concert at The Barbican Centre in London.