7th Annual Oyhoo Festival opener, NYC, Oct 20, 2007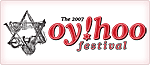 Oyhoo Festival
Opening Night World Premier!
Fiddlin' w/ the Roof
Saturday, October 20th
New York, NY
The 92nd Street Y- Kaufmann Concert Hall
1395 Lexington Ave
8 PM
Tix: Tickets: $25/45/75, and VIP/$118
(VIP tix include special reception w/ the artists)
Click Here for tix & more info.
A live concert featuring 14 groups each performing one song in the original order of the classic motion picture soundtrack of Sholem Aleichem's great tale.
Sarah Aroeste will be performing "Now I Have Everything" (Sephardic style, of course) with special guests Roberto Rodriguez (percussion) and Dan Nadel (flamenco guitar).
Other performers include: Bruce Adler, The Klezmatics, Basya Schechter, Debbie Friedman, Blue Fringe, Jill Sobule, Jackie Hoffman, Neshama Carlebach & more!
Click Here to see the full lineup of artists and songs.
A special evening not to be missed!