Oyhoo: Teapacks and Izabo, NYC, Oct 21, 2007
October 21, 2007 08:00PM
Highline Ballroom
431 W 16th St, (btwn 9th and 10th Ave.)
Buy Tickets Now
Two great Israeli bands on one bill: Teapacks with their song "Push the Button" was Israel's entry for the Eurovision contest. It raised a Brou-Ha-Ha by the European organizers, as it referred indirectly to Iran's nuclear ambitions. The YouTube video featuring the hit song instantly was viewed by over a million people.
Teapacks is:
Kobi Oz – Lead Vocal
Gal Peremen – Bass & vocals
Rami Yosifov – Guitar & vocals
Moti Yosephe – Drums
Noaam Yankelevitch – Keyboards, accordion & vocals
Danny Aberjel – Guitar
Izabo's music has been described as a "Brilliant, action packed combination of Psychedelic Rock, Disco, Punk and Arabic spices", or, if we are to name-drop, like an unlikely cross between Led Zeppelin, the Talking Heads, and Om Koltom.
Spinning between sets is dj handler, the founder and director of Shemspeed, Modular Moods, an independent record label, and the Sephardic Music Festival. As the brains behind Modular Moods and many of the hyped parties in and around NYC, dj handler defies musical stereotypes.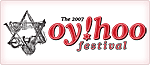 Oyhoo Festival