Oyhoo: Shemspeed Blowout - Release Party, NYC, Oct 25, 2007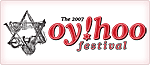 Oyhoo Festival
Shemspeed Blowout – Release Party
October 25, 2007 07:00PM
The Knitting Factory
74 Leonard St. (btwn Broadway & Church)
Buy Tickets Now
Shemspeed, the largest, most diverse Jewish music site teams up with Oyhoo to throw their NYC launch party! Check out Shemspeed at www.shemspeed.com.
With performances by: Y-Love, Pharaoh's Daughter Unplugged, King Django, Sway Machinery w/ Brian Chase of the Yeah Yeah Yeahs, Blue Fringe, Rav Shmuel, Rachael Sage, dj handler, Shem's Disciples, Kosha Dillz, Yuri Lane, DJ Balagan, Michelle Citrin, Chana Rothman, Juez, Jon Madof, Noir, D. Wolf from Felonious, Luminescent Orchestrii, Matthue Roth, Hebrew Mamita, Adam Shechter, Jake Marmer and many many more special guests….
Plus a special screening of The Chosen Ones
JUST ADDED: Smadar!